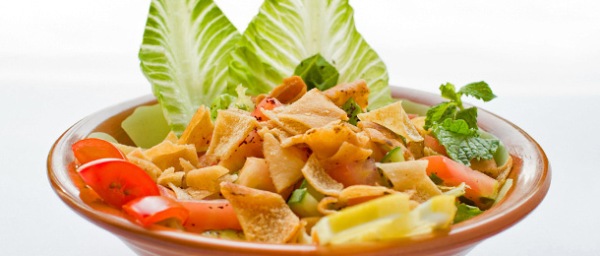 Recipe and images by: Expatrecipe.com
Bas ingredienser
1 Qubz (arabic bread)
100ml Corn Oil
For Salad
1 Baby Cucumber
1 Small Tomato
2 large cos Lettuce
1/2 Spring Onion
2 Stalks Parsley
1 Stalk Mint Leaf
1/2 tsp Sumac Powder
1/2 Juice of Large Lemon
For Dressing
40ml Olive Oil
Salt to taste
Method:
To make croutons, deep-fry bread until golden brown. Remove and drain on kitchen towel. Set aside.
Mix together all the ingredients for the salad.
To make the dressing, whisk together oil and lemon juice, then add salt.
Add dressing to the mixing bowl with the salad and serve, garnish with croutons.